8-12 minutes preparation time + 15 minutes baking time
Chickpea Curry Tofu Wrap
These delicious chickpea curry tofu wraps are a healthy and high-protein alternative to traditional meat wraps. They're perfect for a quick meal on the go or for lunch at work.
Ingredients for
Person
0.5 TL
getrockneter Basilikum
0.2 Glas
Löwenanteil Kichererbsen-Curry
Preparation
1
Den Tofu abtupfen und in etwa gleich große Würfel schneiden.
2
Mit Paprikapulver, Basilikum, Chiliflocken, Speisestärke, Salz und Pfeffer würzen.
3
Alles vermischen und auf ein Backblech verteilen. Mit Öl beträufeln, noch vermischen und für 10-15 Minuten knusprig backen.
4
Kichererbsen-Curry in einer Pfanne erwärmen und den fertigen Tofu dazugeben. Mehrmals umrühren und vermischen.
5
Einen Wrap mit Salat, dem Kichererbsen-Curry Tofu und Kresse befüllen und mit etwas Chiliöl beträufeln.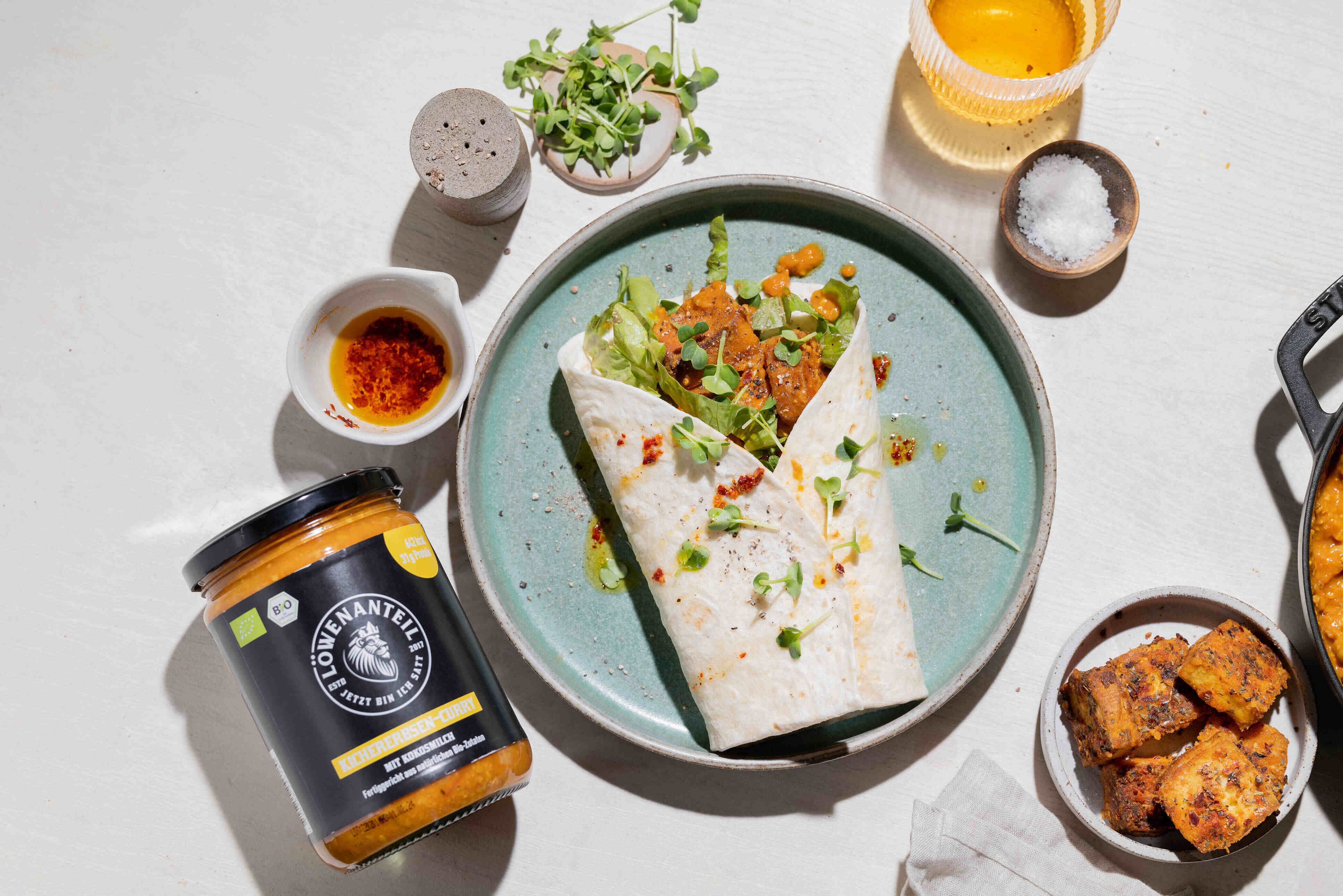 Die bunte Vielfalt von Löwenanteil Fertiggerichten
Die Löwenanteil Fertiggerichte sind die gesunde und zeitsparende Alternative zu ungesunden Snacks, wenn die Zeit eng wird. Da unsere Tage mittlerweile so strukturiert sind, dass wir oft von Termin zu Termin hetzen und neben Freunden und Partnerschaft meistens keine Zeit für das Kochen von ausgewogenem Essen bleibt. Die bunte Kichererbsen-Curry Bowl ist dabei eine der zahlreichen Möglichkeiten, wie unsere Fertiggerichte noch zum Einsatz kommen können. Wer schonmal Kichererbsen zubereitet hat, der weiß, dass es eine aufwendige und zeitintensive Angelegenheit ist, die Kichererbsen auf den Punkt zu bringen und richtig zu würzen. Speziell Curry-Gerichte verlangen uns bei der Würze einiges ab. Diese Arbeit haben wir Dir mit dem Löwenanteil Kichererbsen-Curry bereits abgenommen, sodass du Dich direkt an die Zubereitung der leckeren Bowl machen kannst. Deiner Kreativität sind dabei keine Grenzen gesetzt. Du kannst jederzeit die Bowl erweitern und sie deinen Vorstellungen nach verfeinern. So werden die Löwenanteil Fertiggerichte nicht bloß für den stressigen Alltag zur leckeren und gesunden Alternative, sondern bieten auch für besondere Gerichte die optimale Basis. Garantiert lecker und garantiert in bester Bio-Qualität!