IF YOU HAVE GOALS, YOU HAVE TO EAT RIGHT.
With Löwenanteil you get a hot organic meal in just 3 minutes. Our meals contain everything your body needs: complex carbohydrates, essential fatty acids, plenty of protein and fiber. All meals have an unrefrigerated shelf life of over 1 year, making them super convenient for on-the-go and at home.
BEST NUTRITIONAL VALUES.
ALWAYS THERE FOR YOU WHEN YOU NEED IT.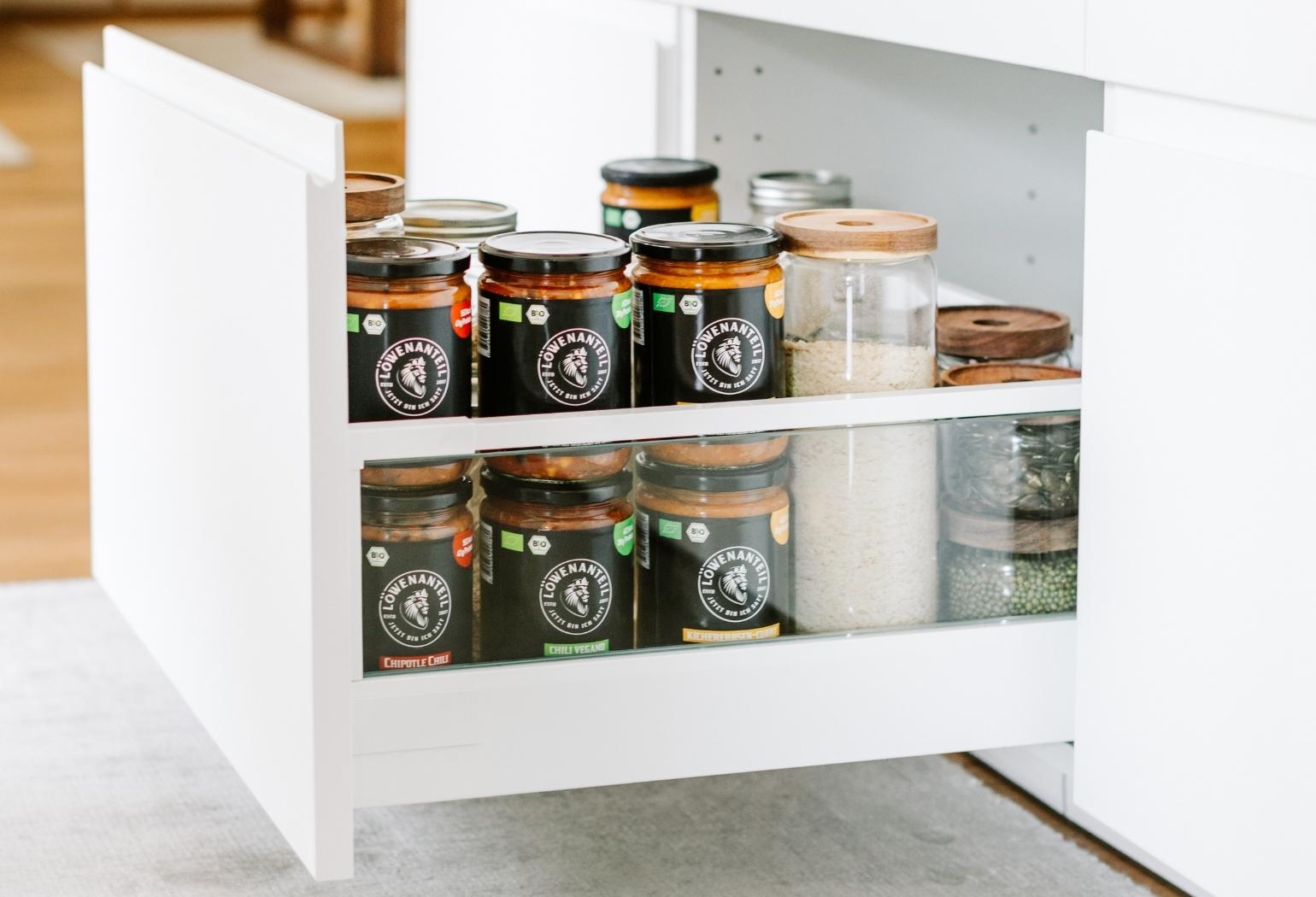 Löwenanteil is the perfect alternative when you don't have time or don't feel like cooking yourself. Because our dishes can be kept unrefrigerated for over a year! Our practical jars are also easy to store and save you valuable space in your refrigerator. So you always have a balanced meal available and you finally get continuity in your diet!
Ingredients:Vegetable broth* (water, onions*, carrots*, leeks*, parsnip*, nutmeg*, fenugreek seeds, white pepper*), Tomatoes*, 12.5% Lentils*, 5.5% White Beans*, Potatoes*, tomato paste*, tomato juice*, celery*, onions*, 3 % Hokkaido pumpkin*, canola oil*, carrots*, rock salt, garlic*, rosemary*, thyme*, bay leaf*, black pepper*.
*from controlled organic cultivation
Nutritional values
per 100 g
per jar (570 g)
Calorific value
423 kJ/101 kcal
2399 kJ/573 kcal
Fat
thereof saturated
2,0 g
0,2 g
11,4 g
1,1 g
Carbohydrates
thereof sugar**
14,7 g
2,4 g
83,8 g
13,7 g
Dietary fiber
3,6 g
20,5 g
Protein
5,3 g
30,2 g
Salt
0,80 g
4,56 g
**sugar naturally contained
1.
Put the contents on a plate and microwave for 2-3 min.
2.
Alternatively, heat the contents briefly in a saucepan.
Lentils à la Provence
Vegan
High Protein
High Fiber
No Added Sugar
Gluten Free
Günstiger als jeder Lieferdienst
Our vegan lentils à la Provence take you on a taste journey to the south of France. With lentils, white beans and juicy Hokkaido pumpkin.
From natural organic food
Rich in protein & fiber
Full of energy & satiating
Without midday low

Free shipping from €59
❤️ simply delicious and quickly prepared.... as a mom of 4, a quick and above all delicious meal 👍
Verified customer
Das könnte dir ebenfalls gefallen
Antworten auf deine Fragen
FAQ
Mit 570 g pro Glas sind unsere Gerichte deutlich größer als übliche Fertiggerichte. Ein Glas enthält zwei Portionen. 
Unsere Bio-Gerichte eignen sich grundsätzlich für jeden, der sich im Alltag ausgewogen ernähren möchte. 
Sportler profitieren von einem hohen Proteingehalt und einer optimalen Nährstoffverteilung. 
Für unsere Gerichte verwenden wir 100% natürliche Bio-Lebensmittel und verzichten vollständig auf Zusatzstoffe und Zusatzzucker. Alle unsere Gerichte verfügen über ein sehr ausgewogenes Verhältnis von hochwertigen Proteinen, Fetten und komplexen Kohlenhydraten.
Unsere Gerichte sind ungekühlt über ein Jahr haltbar. Nach dem Öffnen sind die Gerichte noch mindestens 3 Tage im Kühlschrank haltbar. 

Wir haben ein aufwendiges Verfahren zur Haltbarmachung entwickelt. Dabei werden die Gerichte schonend wärmebehandelt, sodass wir eine lange Haltbarkeit ohne Zusatzstoffe gewährleisten können. Regelmäßige Laboruntersuchungen bestätigen uns dies.
Der Sättigungsfaktor unserer Gerichte ist sehr hoch. Das bedeutet, du bleibst lange satt, selbst wenn du verhältnismäßig wenig Kalorien zu dir genommen hast. So kommst du ohne Quälerei durch deine Diät.
Ja, alle Gerichte sind laktose- und glutenfrei.
UNSER LÖWENRUDEL AUF INSTAGRAM
Poste ein Bild deiner Bestellung mit dem #endlichsatt und verlinke
uns auf Instagram. Mit etwas Glück reposten wir dein Bild.
At a glance
Your Lentils à la Provence
Lentils as an underestimated source of nutrients
When you think of protein sources, lentils probably don't come to mind right away, if at all. Many people may think more of the little-loved lentil soup from childhood when they hear the keyword. However, lentils are actually a very versatile and nutrient-rich legume. They convince with a high protein content and important fiber. This makes them perfect as a base for our fitness dishes. We love lentils precisely because of their underestimated role. Our Lentils à la Provence is a vegan ready meal with high protein and vitamin content. We believe that a plant-based diet can also have benefits for athletes and are proud of our vegan alternatives.
Our lentils recipe has it all
Lentils are often criticized for tasting boring or even bland. Here we would like to strongly disagree. As with any food, the taste depends largely on the preparation of the same. Certainly, there are lentil recipes that taste a bit dull due to a monotonous choice of ingredients. But not our Lentils à la Provence. This ready-made dish convinces with a variety of flavors. The use of flavorful vegetables like Hokkaido pumpkin and spices like nutmeg creates a Mediterranean delight that we are proud of. We believe that recipes with lentils have great potential precisely because of their strong nutritional balance. With our dishes as fuel, we want you to reach your full potential, too.
Why lentils are healthy
Lentils are an excellent and purely plant-based source of protein. However, few people are aware of this fact alone. Because of their natural protein content, lentils are an important food for athletes who eat a primarily or completely plant-based diet. But even those who eat meat should not underestimate lentils as an occasional alternative to animal protein. In fact, this legume is not only rich in protein, but also contains healthy fats and natural fiber. This makes lentils an effective source of energy that will provide you with plenty of power for your next workout. All these properties make lentils healthy and an important building block for an active lifestyle.
Never soak lentils again
In addition to good taste and nutritional balance, efficiency is at the forefront of our fitness dishes. We want to make it possible for you to live healthy without spending a lot of time giving your body the nutrients it needs. It's no secret that varied and healthy cooking can be very time consuming. Between work, sports and free time, many people have little time and motivation to also take care of proper nutrition. We totally understand that. That's why we have developed fitness recipes that taste delicious, contain important nutrients and can be prepared in just a few minutes. For example, with our ready-to-eat meals, you'll never have to soak lentils again. So you can focus on your priorities.
Lentil Protein - uncomplicated, delicious, fast
Lentil protein is always a good idea for the body, especially in times of muscle building, because it is very easy to metabolize. Protein is, so to speak, the building block with which your body can build muscle. Even on a meatless diet, this allows you to maintain your protein levels without having to resort to animal products. The lentil protein content is of course not the only plus of the small tasty balls. In addition to protein, lentils also contain healthy fats and fiber, which are both important and beneficial for an active lifestyle.
Lentils as the perfect food for athletes
It is often problematic to prepare food in a balanced way, because it simply takes a lot of time. Especially lentils take a while until they are ready for consumption. To make the lentil protein available to your body without messing up your schedule, our delicious Lentils a la Provence are ready in about 3 minutes - and on top of that, our lentils are vegan. So you get an all-rounder for your body and muscles, it's quick to prepare, delicious and keeps for a long time - unstirred for over 1 year! If you have any questions about our products or want to learn more, feel free to contact us, we are at your disposal!