Pasta Provence casserole with homemade Parmesan
Conjure up a delicious pasta à la Provence with little effort? That's fine! The lentils à la Provence from Löwenshare not only provide the necessary bite, their unique seasoning also brings the pleasure of Provence to your plate. A simple recipe with a big effect - so get to the wooden spoon, we'll show you how!
Ingredients for
Person
0.5 Glas
Löwenanteil Linsen à la Provence
Preparation
1
Den Backofen auf 180 Grad, Ober- und Unterhitze vorheizen.
2
Die Pasta in kochendes Wasser geben und für 6-8 Minuten köcheln, bis sie gar sind.
3
Nudeln abgießen und mit der Linsen à la Provence wieder in den Topf geben und mit Salz und Pfeffer abschmecken.
4
In eine Auflaufform füllen und für 15-20 Minuten backen.
5
Die Cashewkerne mit Salz und Hefeflocken in einen Mixer füllen und fein mixen, um den Parmesan zuzubereiten.
6
Den Pasta Auflauf mit frischen Kräutern und Parmesan bestreuen.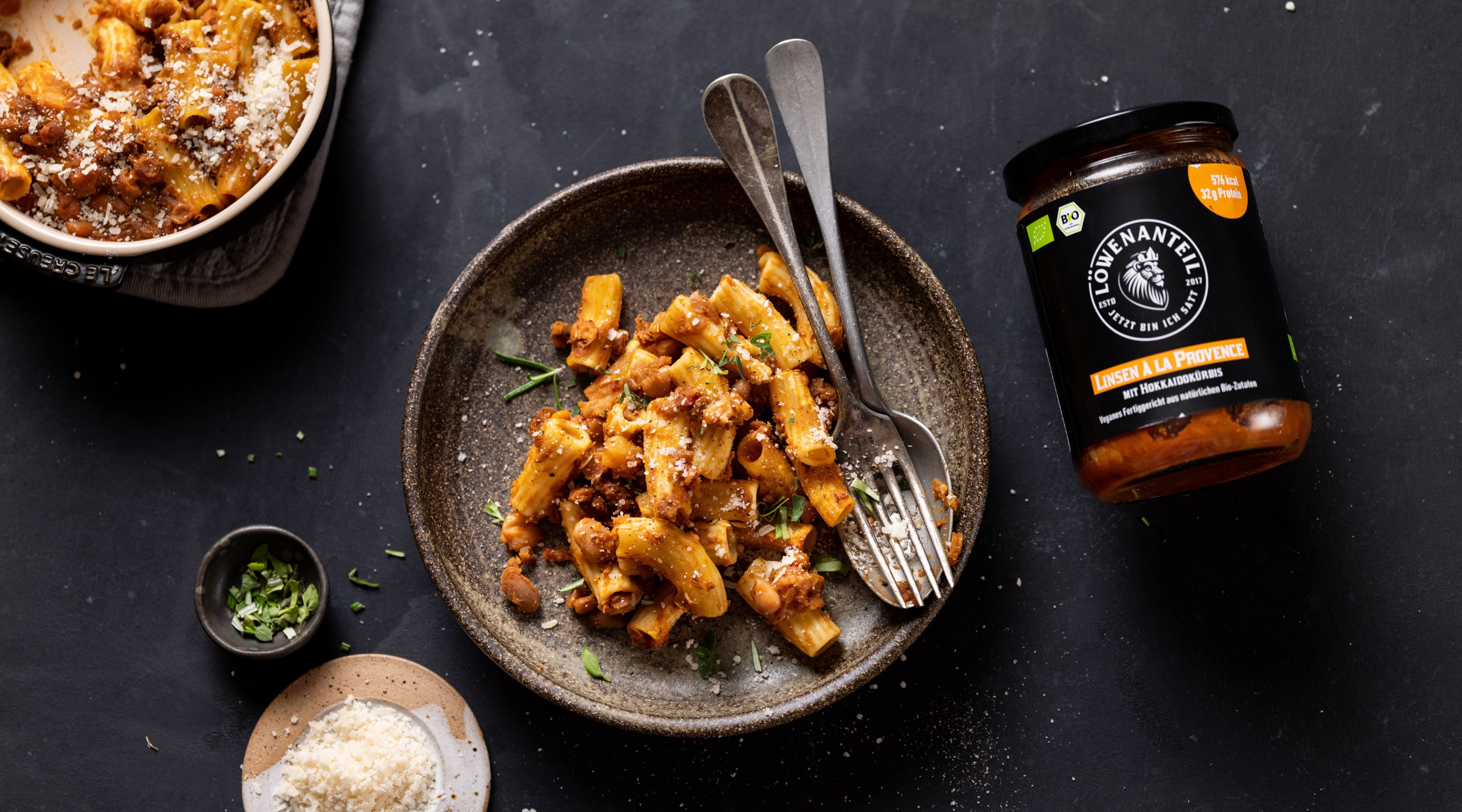 Die Würze der Provence in wenigen Minuten
Bei Gerichten wie den Linsen à la Provence steht eigentliche eine Größe unumgänglich im Vordergrund: Die Zeit. Einen Eintopf zuhause zu kochen ist gar nicht so einfach und man benötigt neben dem richtigen Rezept auch den richtigen Garpunkt, damit alles zusammen eine schöne Einheit bildet und köstlich schmeckt! Im Fall der Linsen à la Provence von Löwenanteil haben wir diese Arbeit für dich bereits übernommen. Wir haben in die Zubereitung und Zusammenstellung unserer Gerichte viel Zeit investiert. So kamen Gerichte zum Vorschein, die nicht nur sehr gesund und lecker sind, sondern binnen kürzester Zeit dampfend bei dir auf dem Teller landen. Dies ist vor allem im stressigen Alltag sehr nützlich, da wir sonst am liebsten Zeit beim Kochen einsparen und lieber schnell etwas vom Imbiss um die Ecke kaufen. Wenn du nun am Wochenende zum Beispiel für dich und deinen Partner etwas zaubern möchtest, ist das Rezept für die Pasta Provence sicher genau die richtige Wahl für dich. Die Linsen à la Provence sind aufwendig und einzigartig gewürzt und bringen den Genuss der Provence direkt zu euch auf den Tisch. Verfeinert mit Parmesan ein echter Gaumenschmaus!