IF YOU HAVE GOALS, YOU HAVE TO EAT RIGHT.
With Löwenanteil you get a hot organic meal in just 3 minutes. Our meals contain everything your body needs: complex carbohydrates, essential fatty acids, plenty of protein and fiber. All meals have an unrefrigerated shelf life of over 1 year, making them super convenient for on-the-go and at home.
BEST NUTRITIONAL VALUES.
ALWAYS THERE FOR YOU WHEN YOU NEED IT.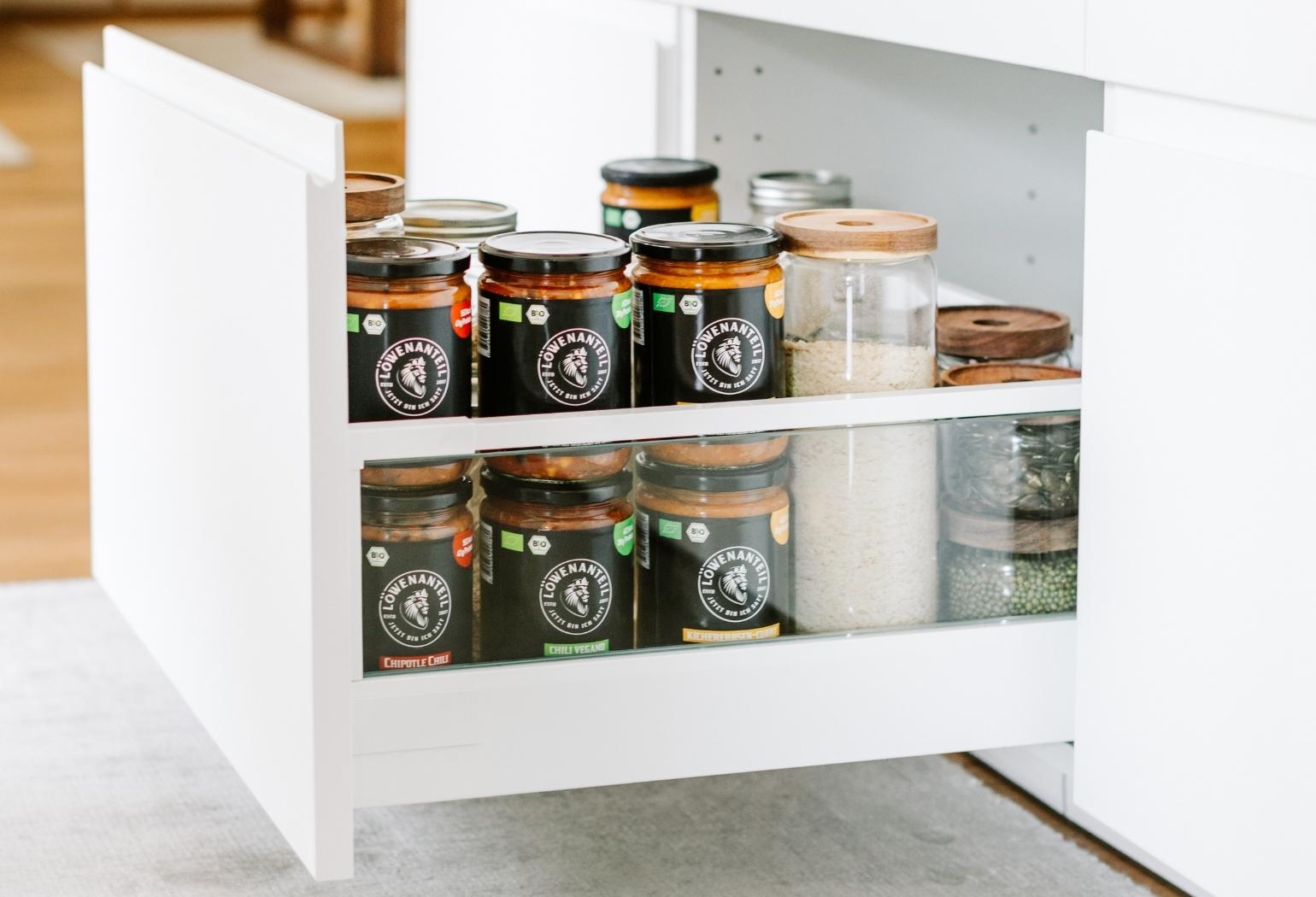 Löwenanteil is the perfect alternative when you don't have time or don't feel like cooking yourself. Because our dishes can be kept unrefrigerated for over a year! Our practical jars are also easy to store and save you valuable space in your refrigerator. So you always have a balanced meal available and you finally get continuity in your diet!
Ingredients: Vegetable broth* (water, vegetable broth* [water, rock salt, cornstarch*, onions*, carrots*, sunflower oil*, spices*, herbs*]), mountain lentils* 15%, carrots*, potatoes *, onions*, pumpkin seeds* 3%, salt, apple cider vinegar*, beech smoke salt (salt, beech wood smoke), pepper*, antioxidant, ascorbic acid.
*from controlled organic cultivation
Nutritional values
per 100 g
per glass ( 570 g)
calorific value
385 kJ/92 kcal
2206 kJ/527 kcal
Fat
of which saturated
1.6 g
0.3g
9.1g
1.6 g
Carbohydrates
of which sugar**
13.6 g
1.2g
77.5g
6.8 g
Dietary fiber
3.1 g
17.7 g
protein
5.3 g
30.2 g
salt
5.19g
**Naturally contained sugar
1.
Put the contents on a plate and microwave for 2-3 min.
2.
Alternatively, heat the contents briefly in a saucepan.
Mountain lentil stew
Vegan
High Protein
High Fiber
No Added Sugar
Gluten Free
Günstiger als jeder Lieferdienst
You love grandma's stew? We make it fit for your muscles! Our hearty mountain lentil stew brings enthusiasm to vegan cuisine. With crunchy pumpkin seeds.
From natural organic food
Rich in protein & fiber
Full of energy & satiating
Without midday low

Free shipping from €59
Very tasty and healthy vegan dish. Great seasoning! Absolute purchase recommendation!!! Tastes like mom's 😊
Verified customer
Das könnte dir ebenfalls gefallen
Antworten auf deine Fragen
FAQ
Mit 570 g pro Glas sind unsere Classic Gerichte deutlich größer als übliche Fertiggerichte. Ein Glas enthält zwei Portionen.Unsere Chunky Bowls enthalten eine Portion pro Glas (380g).
Unsere Bio-Gerichte eignen sich grundsätzlich für jeden, der sich im Alltag ausgewogen ernähren möchte. 
Sportler profitieren von einem hohen Proteingehalt und einer optimalen Nährstoffverteilung. 
Für unsere Gerichte verwenden wir 100% natürliche Bio-Lebensmittel und verzichten vollständig auf Zusatzstoffe und Zusatzzucker. Alle unsere Gerichte verfügen über ein sehr ausgewogenes Verhältnis von hochwertigen Proteinen, Fetten und komplexen Kohlenhydraten.
Unsere Gerichte sind ungekühlt über ein Jahr haltbar. Nach dem Öffnen sind die Gerichte noch mindestens 3 Tage im Kühlschrank haltbar. 

Wir haben ein aufwendiges Verfahren zur Haltbarmachung entwickelt. Dabei werden die Gerichte schonend wärmebehandelt, sodass wir eine lange Haltbarkeit ohne Zusatzstoffe gewährleisten können. Regelmäßige Laboruntersuchungen bestätigen uns dies.
Der Sättigungsfaktor unserer Gerichte ist sehr hoch. Das bedeutet, du bleibst lange satt, selbst wenn du verhältnismäßig wenig Kalorien zu dir genommen hast. So kommst du ohne Quälerei durch deine Diät.
Alle Gerichte sind laktosefrei. Die Soja Sesam Chunks sind nicht glutenfrei, alle anderen Gerichte schon.
UNSER LÖWENRUDEL AUF INSTAGRAM
Poste ein Bild deiner Bestellung mit dem #endlichsatt und verlinke
uns auf Instagram. Mit etwas Glück reposten wir dein Bild.
At a glance
Your Mountain lentil stew
Our mountain lentil stew has it all
This dish is definitely interesting for all athletes who are friends of hearty cuisine. Mountain lentils and pumpkin seeds make our vegan lentil stew a hearty ready meal. In addition to a high protein content, the hearty classic has plenty of power in the form of carbohydrates. Thus, the fitness dish is perfect as a source of energy for a long day of hiking or as a reward afterwards. Of course, only organic quality ingredients are used to prepare our stew. We have reinvented the classic lentil stew and turned it into an energy-packed convenience meal. As a result, the dish has little to do with grandma's lentil stew, but fits perfectly with your sporty lifestyle.
You'll love this mountain lentil recipe
Our lentil stew is not only bursting with energy and important nutrients, but also tastes insanely delicious. This combination of flavor and nutritiousness is exactly what we strive to achieve with all of our dishes. Ready-made meals can be as healthy as they are if they don't taste delicious. On the other hand, tasty meals without important nutrients do not fit into an active lifestyle. We think it's a shame that for many people there is only an "either or" here. We would like to show precisely these people that you don't have to do without good taste or healthy ingredients. That's why our mountain lentils recipe was also developed by a renowned organic chef. If you like hearty food, you'll love this lentil stew.
Never cook mountain lentils again
What qualities must the perfect dish for an athlete have? Well, it should definitely contain certain nutrients. In addition, the ideal fitness dish is, in the best case, quickly prepared. It would also be desirable that it tastes good. Quite a few requirements. Our experience has shown that many healthy ready meals usually do not meet one of these requirements. Therefore, we have made it our goal to create ideal ready meals for athletes. We focus on healthy ingredients in organic quality, a rich nutritional content and fast preparation. Our meals only need to be heated in the microwave or a pot for a few minutes. You don't have to make any elaborate preparations and thanks to our stew, you'll never have to cook mountain lentils again.
A modern lentil stew for athletes
Traditional cooking definitely has its raison d'être, no question about it. We treat ourselves to a classic dish every once in a while, it's just part of the experience. At the same time, it's a fact that traditional dishes are often kept very basic. Hardly surprising, because in the past there were simply not yet today's possibilities and the offer of food. We are interested in reinterpreting timeless classics like lentil stew. So we've turned a somewhat dusty meal into a modern fitness dish. To do this, we simply added a few healthy and flavorful ingredients to the traditional mountain lentil recipe. Thus, our hearty lentil stew is a successful combination of tradition and current food trends.
Your new favorite mountain lentil recipe? Open the jar and you're ready to go!
Cooking mountain lentils is easy, but time-consuming. With the Löwenanteil of mountain lentil stew, cooking on your own is no longer necessary at all. Our freshly cooked mountain lentils have a long shelf life and taste just like the delicious original from Austria. If you search the Internet for a mountain lentil recipe, you will come across many different results, some of which require a lot of time. Your mountain lentil stew from Löwenanteil is ready to eat in just 3 minutes and is an ideal fitness food thanks to optimal nutritional values. No lunchtime slump at all, with plenty of protein, healthy fats and fiber.
Nutritional values Lentils - little protein bombs
If we take a closer look at the small lentils from the mountain lentil stew, we quickly realize that it is the perfect sports food. In addition to the many healthy fats, they provide us with protein that is easy for the body to metabolize. Our bodies need small building blocks to build muscle - and that's exactly what protein is. Thanks to their important fiber, fats and proteins, the lentil stew nutritional values show that the mountain lentil stew should become an essential food for every athlete. You can find out what other nutritional values lentils can offer here on our website or quite classically on the jar in which the mountain lentil stew comes to your home.