IF YOU HAVE GOALS, YOU HAVE TO EAT RIGHT.
With Löwenanteil you get a hot organic meal in just 3 minutes. Our meals contain everything your body needs: complex carbohydrates, essential fatty acids, plenty of protein and fiber. All meals have an unrefrigerated shelf life of over 1 year, making them super convenient for on-the-go and at home.
BEST NUTRITIONAL VALUES.
ALWAYS THERE FOR YOU WHEN YOU NEED IT.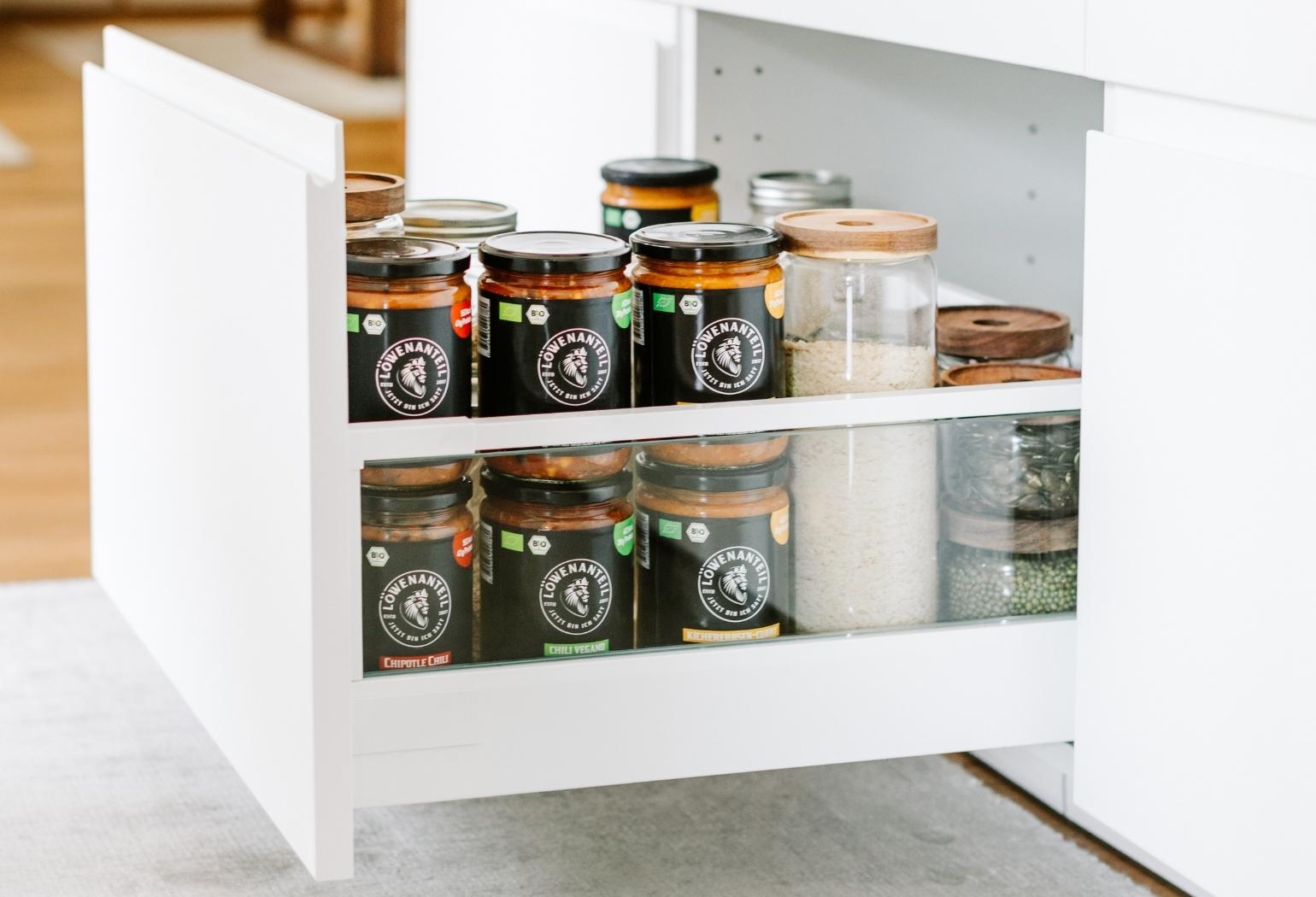 Löwenanteil is the perfect alternative when you don't have time or don't feel like cooking yourself. Because our dishes can be kept unrefrigerated for over a year! Our practical jars are also easy to store and save you valuable space in your refrigerator. So you always have a balanced meal available and you finally get continuity in your diet!
Ingredients: Water, soy15% (soy granules*, water), beans* black soaked, tomatoes*, onions*, red kidney beans* soaked, corn*, tomato paste*, potatoes*, canola oil*, salt, beechwood smoke salt (salt, beechwood smoke), Cumin*, garlic*, vegetable broth (water, vegetable broth [water, rock salt, corn starch*, onions*, carrots*, sunflower oil*, spices*, herbs*]), chili* 0.1%, paprika* smoked, paprika*.
*from controlled organic cultivation
Nutritional values
per 100 g
per glass (570 g)
Calorific value
448 kJ/107 kcal
2562 kJ/612 kcal
Fat
thereof saturated
2.9 g
0.3 g
16.5 g
1.5 g
Carbohydrates
thereof sugar**
14.3 g
2.5 g
81.5 g
14.3 g
Dietary fiber
4,0 g
22,8 g
Protein
5,3 g
30,2 g
Salt
0,90 g
5,13 g
**sugar naturally contained
1.
Put the contents on a plate and microwave for 2-3 min.
2.
Alternatively, heat the contents briefly in a saucepan.
Chili Vegano
Vegan
High Protein
High Fiber
No Added Sugar
Gluten Free
Günstiger als jeder Lieferdienst
The vegan version of our popular chili. Our Chili Vegano enchants with vegetable mince and a pleasant spiciness. Just as delicious, 100% vegetable.
From natural organic food
Rich in protein & fiber
Full of energy & satiating
Without midday low

Free shipping from €59
I almost didn't expect it, but the vegan chili is possibly my favorite dish, especially in combination with rice it's really delicious.
Verified customer
Das könnte dir ebenfalls gefallen
Antworten auf deine Fragen
FAQ
Mit 570 g pro Glas sind unsere Gerichte deutlich größer als übliche Fertiggerichte. Ein Glas enthält zwei Portionen. 
Unsere Bio-Gerichte eignen sich grundsätzlich für jeden, der sich im Alltag ausgewogen ernähren möchte. 
Sportler profitieren von einem hohen Proteingehalt und einer optimalen Nährstoffverteilung. 
Für unsere Gerichte verwenden wir 100% natürliche Bio-Lebensmittel und verzichten vollständig auf Zusatzstoffe und Zusatzzucker. Alle unsere Gerichte verfügen über ein sehr ausgewogenes Verhältnis von hochwertigen Proteinen, Fetten und komplexen Kohlenhydraten.
Unsere Gerichte sind ungekühlt über ein Jahr haltbar. Nach dem Öffnen sind die Gerichte noch mindestens 3 Tage im Kühlschrank haltbar. 

Wir haben ein aufwendiges Verfahren zur Haltbarmachung entwickelt. Dabei werden die Gerichte schonend wärmebehandelt, sodass wir eine lange Haltbarkeit ohne Zusatzstoffe gewährleisten können. Regelmäßige Laboruntersuchungen bestätigen uns dies.
Der Sättigungsfaktor unserer Gerichte ist sehr hoch. Das bedeutet, du bleibst lange satt, selbst wenn du verhältnismäßig wenig Kalorien zu dir genommen hast. So kommst du ohne Quälerei durch deine Diät.
Alle Gerichte sind laktosefrei. Die Soja Sesam Chunks sind nicht glutenfrei, alle anderen Gerichte schon.
UNSER LÖWENRUDEL AUF INSTAGRAM
Poste ein Bild deiner Bestellung mit dem #endlichsatt und verlinke
uns auf Instagram. Mit etwas Glück reposten wir dein Bild.
At a glance
Your Chili Vegano
Vegan chili sin carne - Especially for athletes.
For athletes, the nutrition plan is one of the essential factors for physical success. The diet can regulate whether you lose weight, build mass or define muscles. No matter in which direction it should go, what must not be missing in the diet plan are the proteins. A high protein content is necessary to supply the muscles with protein. When developing the delicious ready meals of Löwenanteil, it was taken into account that they provide your body with protein. With 30g of protein per jar, the vegan chili has a very high protein content. Since it can sometimes be problematic for vegans to take in enough protein, it's convenient that it's so easy with a Löwenanteil meal. The key here is called vegan ground beef. This mince is what makes our vegan chili so protein-packed. With Löwenanteil Chili Vegano, you're getting ready for your next workout in the best way possible! On top of that, it can be prepared in just a few minutes, making it perfect for those stressful days at work.
Vegan chili made just for you
With all of our dishes, in addition to the high-quality ingredients and nutrients, we also pay special attention to taste. After all, even the healthiest meal is unlikely to be eaten by anyone if it tastes like an old boot. So, contrary to the approach of many other ready meal manufacturers, the choice of flavorful ingredients plays just as important a role for us as the selection of high-quality organic ingredients for all our products - including, of course, our vegan chili. We always strive to find the ideal balance between taste and great nutritional values for our dishes. So we use aromatic spices and special vegetables to create a culinary experience that, despite a short preparation time of 3 minutes, doesn't have to compromise on taste or nutritional value. Protein-rich kidney beans, a delicious meat alternative and our talented chefs ensure a nutritious vegan chili that still tastes like a freshly cooked meal. We want to make sure that you don't lose your appetite after the first can of chili sin carne, so we take great care to tailor our dishes to your taste. At Löwenanteil, you will find only high-quality dishes that are suitable as a full meal in terms of nutritional values, but also leave nothing to be desired in terms of taste.
Spoilt for choice: high-quality side dishes for your meal
With us, as usual, you can choose between great side dishes for your vegan chili with tofu and order them - in our assortment you will find, for example, delicious organic quinoa or basmati rice. This option allows you to customize the dish to your taste and individualize it according to your preferences. Both quinoa and basmati rice are popular side dishes for a vegan chili, so you can choose either one to your liking. Best of all, just like the vegan chili, our side dishes don't require extra cooking; they just need to be heated briefly because they're already cooked. So you save a lot of time preparing them if you have a stressful day at work or just want to spend your lunch break doing something other than cooking. Of course, all of our side dishes, as well as the meat alternative in our chili sin carne, are organically grown, because the responsible treatment of nature is very important to us. We act and prepare all our dishes according to this principle. Take a look at our "Side Dishes & Snacks" category and try something new!
A great alternative to the traditional chili recipe
Usually vegan chili, just like conventional chili con carne, is not a typical athlete's meal that is often found in diet or nutrition plans. This is usually due to the ingredients not being of good quality or containing too many fats. As a result, vegan chili has fallen into oblivion over the years, especially in sports circles and other similar communities. But that's exactly what we at Löwenanteil want to change, because taste-wise vegan chili sin carne can offer a lot and is therefore also very popular as a dish in many restaurants and at private events as a quick recipe that can be prepared in large quantities at quite reasonable prices. Our vegan chili recipe, just like our chili con carne, offers great nutritional values in addition to great taste - and that's what ultimately matters. Although it doesn't include meat, our vegan chili sin carne recipe has a particularly high protein content, as well as a balanced amount of carbohydrates that will replenish energy stores while you work and still fit into an athlete's diet plan. In addition to the protein-rich kidney beans and the meat alternative, our recipe variation contains all sorts of delicious vegetables and aromatic spices that make for a great taste experience. The vegan chili, a traditional Mexican dish, is thus interpreted in a completely new way and serves as a balanced lunch for all those who eat consciously.
This is why our vegan chili recipe is so good
Our vegan chili is 100% plant-based and made entirely from high-quality organic ingredients, so both the vegan ground beef, the beans and the rest of the vegetables. All of these ingredients are organic only, as mentioned above, and are free of artificial additives. Since our vegan chili sin carne, as the name suggests ("sin carne" translated from Spanish means "without meat"), does not contain meat, the proteins have to come mainly from the kidney beans, while many vitamins and nutrients are present in the tofu and in the other vegetables included, such as onions, carrots or corn. Our recipe represents an ideal balance between all these nutrients, making it suitable as a balanced lunch or at whatever time of day you want to enjoy a hot meal. Due to the high quality ingredients, our vegan chili sin carne is also a pleasure to taste: after all, we want to offer you a vegan chili in every way that you would love to eat again anytime! Above you will find more nutritional information about this dish, such as how many carbohydrates and how much fat is contained in our chili sin carne.
How long can you enjoy our vegan chili?
Of course, the shelf life plays a big role in ready meals, because in the best case you buy once a larger amount of vegan chili and then store all the cans in the refrigerator at home or at work. However, you don't even have to store our vegan chili in the fridge, as they can even be kept unrefrigerated for up to 12 months! Yes, you read that right, our vegan chili sin carne can be stored in the cupboard for up to a whole year before it is no longer edible. We guarantee that the chili sin carne will keep for at least as long as it says on the can, and without any artificial preservatives. Due to the high hygiene rules that apply in our kitchens, you can also be completely sure that you won't find anything in your food that doesn't belong there. So you can enjoy our delicious vegan chili every day without hesitation, which is completely prepared in just 3 minutes. You can keep our vegan chili opened in the refrigerator for 2-3 days and consume it without hesitation. So you can easily prepare a jar of vegan chili over two days, if a whole serving is too much for you. We wish you a good appetite and hope that you like our vegan chili as much as we do!