IF YOU HAVE GOALS, YOU HAVE TO EAT RIGHT.
With Löwenanteil you get a hot organic meal in just 3 minutes. Our meals contain everything your body needs: complex carbohydrates, essential fatty acids, plenty of protein and fiber. All meals have an unrefrigerated shelf life of over 1 year, making them super convenient for on-the-go and at home.
BEST NUTRITIONAL VALUES.
ALWAYS THERE FOR YOU WHEN YOU NEED IT.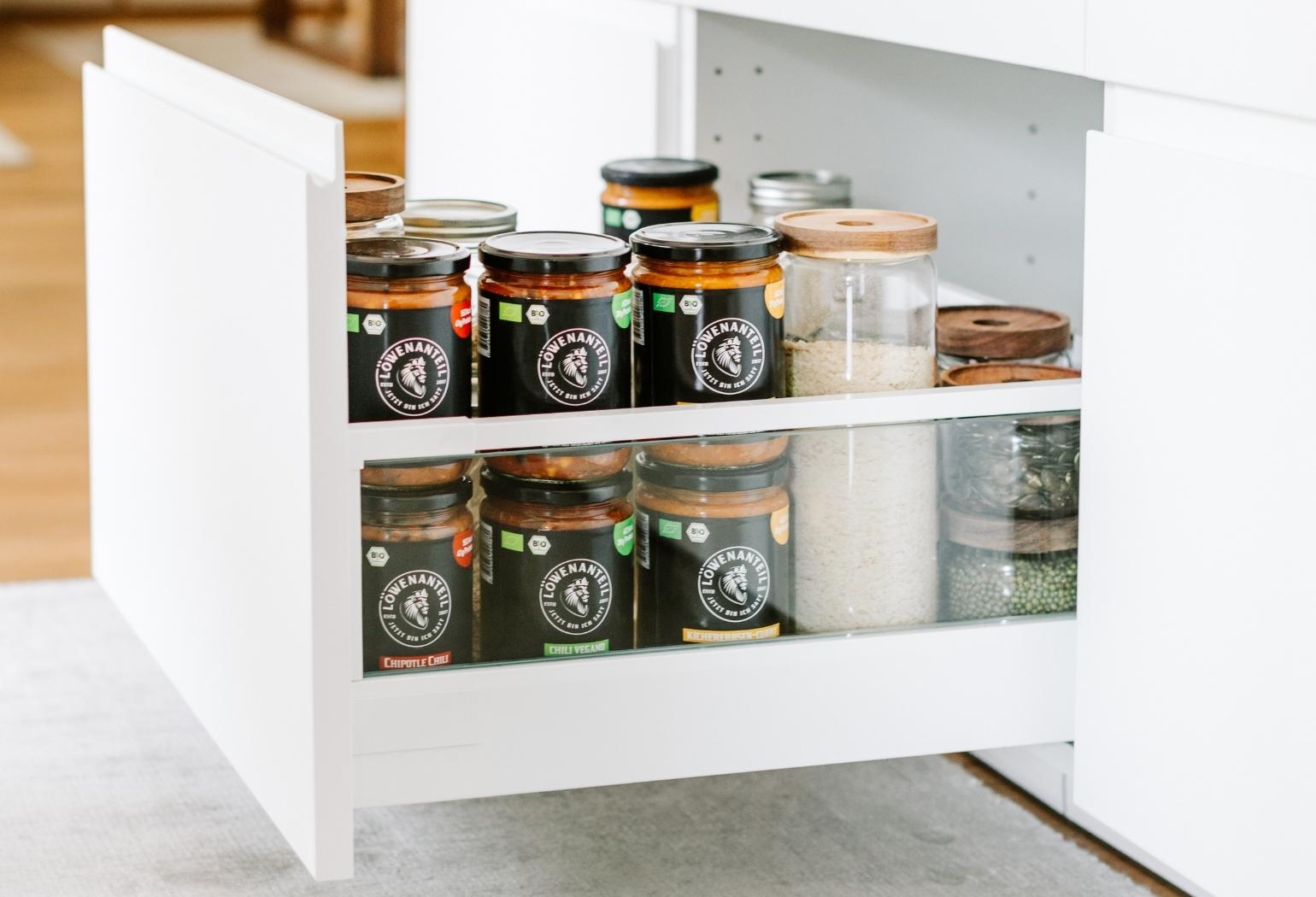 Löwenanteil is the perfect alternative when you don't have time or don't feel like cooking yourself. Because our dishes can be kept unrefrigerated for over a year! Our practical jars are also easy to store and save you valuable space in your refrigerator. So you always have a balanced meal available and you finally get continuity in your diet!
Ingredients: Beans* black soaked 18%, tomatoes*, vegetable broth [water, vegetable broth (rock salt, corn starch*, onions* carrots*, sunflower oil*, spices*, herbs*)], ground beef* 12 %, onions*, kidney beans* soaked 9 %, corn*, beef bone broth (water, beef bone* 28 %, celery*, carrots*, apple cider vinegar*, salt, garlic*, bay leaf*, pepper*). Sweet potatoes* 6%, canola oil*, tomato paste*, salt, smoked salt, garlic*, cumin*, paprika* smoked, chili* 0,1%, paprika* sweet.
*from controlled organic cultivation

Nutritional values
per 100 g
per jar (570 g)
Calorific value
431 kJ/103 kcal
2449 kJ/585 kcal
Fat
thereof saturated

3.4 g
1.0 g

19.4 g
5.7 g
Carbohydrates
of which sugar**

10.8 g
2.3 g
61.6 g
13.1 g
Dietary fiber
5,3 g
30,2 g
Protein
6,5 g
37,1 g
Salt
0,78 g
4,45 g
**sugar naturally contained

1.
Put the contents on a plate and microwave for 2-3 min.
2.
Alternatively, heat the contents briefly in a saucepan.
Chipotle Chili
High Protein
High Fiber
No Added Sugar
Gluten Free
Günstiger als jeder Lieferdienst
The fire of Mexico - Our Chipotle Chili with the best organic beef and beef bone broth. Mild chipotle heat meets sweet potato.
From natural organic food
Rich in protein & fiber
Full of energy & satiating
Without midday low

Free shipping from €59
I love it. Could eat it every day! A pack of rice is enough for 2 days, super healthy and the price/performance ratio is right!
Verified customer
Das könnte dir ebenfalls gefallen
Antworten auf deine Fragen
FAQ
Mit 570 g pro Glas sind unsere Gerichte deutlich größer als übliche Fertiggerichte. Ein Glas enthält zwei Portionen. 
Unsere Bio-Gerichte eignen sich grundsätzlich für jeden, der sich im Alltag ausgewogen ernähren möchte. 
Sportler profitieren von einem hohen Proteingehalt und einer optimalen Nährstoffverteilung. 
Für unsere Gerichte verwenden wir 100% natürliche Bio-Lebensmittel und verzichten vollständig auf Zusatzstoffe und Zusatzzucker. Alle unsere Gerichte verfügen über ein sehr ausgewogenes Verhältnis von hochwertigen Proteinen, Fetten und komplexen Kohlenhydraten.
Unsere Gerichte sind ungekühlt über ein Jahr haltbar. Nach dem Öffnen sind die Gerichte noch mindestens 3 Tage im Kühlschrank haltbar. 

Wir haben ein aufwendiges Verfahren zur Haltbarmachung entwickelt. Dabei werden die Gerichte schonend wärmebehandelt, sodass wir eine lange Haltbarkeit ohne Zusatzstoffe gewährleisten können. Regelmäßige Laboruntersuchungen bestätigen uns dies.
Der Sättigungsfaktor unserer Gerichte ist sehr hoch. Das bedeutet, du bleibst lange satt, selbst wenn du verhältnismäßig wenig Kalorien zu dir genommen hast. So kommst du ohne Quälerei durch deine Diät.
Ja, alle Gerichte sind laktose- und glutenfrei.
UNSER LÖWENRUDEL AUF INSTAGRAM
Poste ein Bild deiner Bestellung mit dem #endlichsatt und verlinke
uns auf Instagram. Mit etwas Glück reposten wir dein Bild.
At a glance
Your Chipotle Chili
Chili con carne by athletes for athletes
Many athletes pay attention to a high protein content when compiling their diet. This is the only way they can supply their muscles with urgently needed proteins on a permanent basis. We have taken this fact into account when developing our ready meals. For example, our beloved chili con carne has an above-average protein content. In this dish, the protein comes from high-quality organic beef. In addition to classic ground beef, we've also used delicious beef bone broth. This way, we not only cover your protein needs, but also give you a delicious taste experience. With our chili con carne, you're guaranteed to be ready for your next workout and give your muscles exactly what they need.
A different chili con carne recipe
A traditional chili con carne recipe isn't designed with sports in mind. As a result, the traditional Mexican dish isn't necessarily associated with an athletic lifestyle. We want to change that with our sophisticated chili con carne recipe. That's why, on the one hand, our chipotle chili consists of important protein sources such as organic beef and black beans. In addition, our interpretation of the Mexican classic includes numerous organic vegetables and spices. It was also important to us that our chili contains almost exclusively healthy fats. This has resulted in a chili con carne recipe that is perfect for a sporty daily routine. A superior nutritional balance confirms this ambitious statement.
Our Chipotle Chili is made for you
As with all our fitness dishes, it was important to us that your taste experience is not neglected in the Chipotle Chili. Many manufacturers of healthy ready meals pay attention to good nutritional values, but unfortunately neglect the taste. It is very important to us that our organic dishes are not only healthy, but also delicious. That is why we use a variety of aromatic vegetables and spices for our Chipotle Chili. After all, we definitely don't want you to lose your appetite for our products after just a few meals. Just because you're eating healthy, doesn't mean you should miss out on good taste. We strongly believe in this statement and try to prove it through our ready meals.
That is why our chili is healthy
For athletes and active people, not only a high protein content is beneficial in their meals. At least as important is the regular intake of vitamins and other nutrients. A combination of numerous vegetables onions, carrots or corn and reliable sources of protein such as organic beef and black beans makes our chili healthy. This dish is also peppered with unconventional ingredients like sweet potatoes or bay leaves to give you a special taste experience. In our opinion, healthy food can only work by combining it with good taste. Otherwise, eating quickly feels like a chore.
Your perfect Chili Con Carne side dish
As with all of our healthy ready meals, it was important to us that you have enough choice in your side dishes for our Chili Con Carne. That's why, in addition to our delicious Chili Con Carne with organic beef, you'll also find a selection of side dishes that you can easily order with it. Depending on what you like best as a side dish to Chili Con Carne, you have the choice between organic basmati rice or organic quinoa. You choose your Chili Con Carne side dish. We always make sure our ingredients are 100% organic, we believe a respectful approach to nature is a prerequisite for a healthy future.
Chili Con Carne shelf life
How long does Chili Con Carne keep? Our Chili Con Carne shelf life is over 12 months unrefrigerated. It stays fresh for at least as long as it says on the jar. Since we pay a lot of attention to hygiene and natural ingredients in the production of our fitness ready meals, you can be sure that there is nothing in the food that could have a bad effect on the Chili Con Carne shelf life - at the same time, however, we do not use any artificial preservatives. How long does Chili Con Carne keep after opening? After you have opened the jar, you should not leave the food too long, but use it up within the next 2-3 days and store it in a cool place.