IF YOU HAVE GOALS, YOU HAVE TO EAT RIGHT.
With Löwenanteil you get a hot organic meal in just 3 minutes. Our meals contain everything your body needs: complex carbohydrates, essential fatty acids, plenty of protein and fiber. All meals have an unrefrigerated shelf life of over 1 year, making them super convenient for on-the-go and at home.
BEST NUTRITIONAL VALUES.
ALWAYS THERE FOR YOU WHEN YOU NEED IT.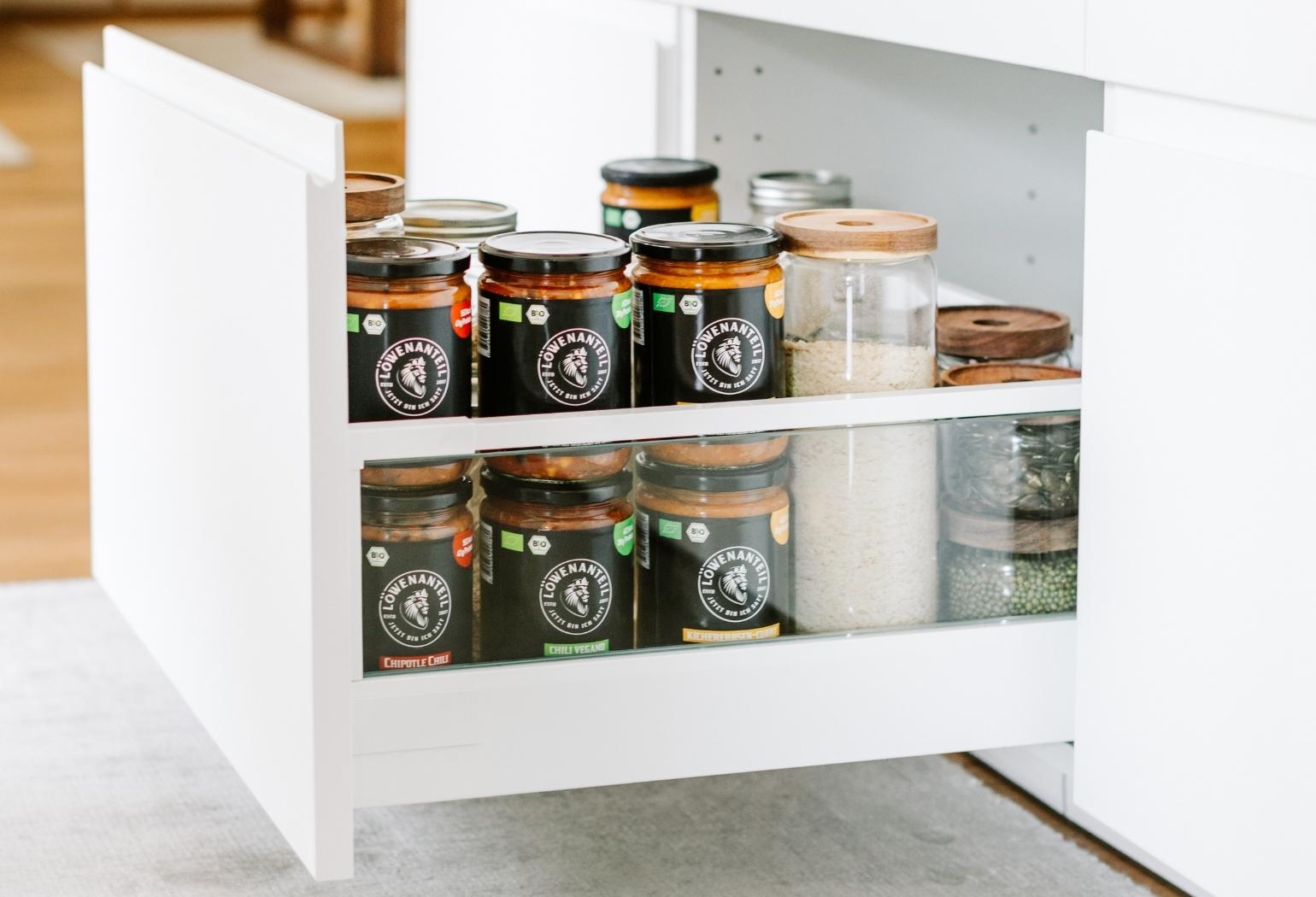 Löwenanteil is the perfect alternative when you don't have time or don't feel like cooking yourself. Because our dishes can be kept unrefrigerated for over a year! Our practical jars are also easy to store and save you valuable space in your refrigerator. So you always have a balanced meal available and you finally get continuity in your diet!
Ingredients: chicken broth* (water, rock salt, wheat starch* (gluten-free), chicken fat*, chicken meat*, onion*, parsley*, carrots*, garlic*, turmeric*, rosemary*), tomatoes*, cannellini beans* 15.4%, borlotti beans* 11.8%, chicken meat*. 7.3%, savoy cabbage*, onions*, carrots*, zucchini*, Celery*, spices* (contains mustard), olive oil*, garlic*.
*from controlled organic cultivation
Nutritional values
per 100 g
per glass (545 g)
Calorific value
371 kJ/88 kcal
2022 kJ/480 kcal
Fat
thereof saturated
1.9 g
0.5 g
10.3 g
2.7 g
Carbohydrates
thereof sugar**
10.5 g
1.8 g
57.2 g
9.8 g
Dietary fiber
3,4 g
18,5 g
Protein
5,7 g
31 g
Salt
0,90 g
4,91 g
**sugar naturally contained
1.
Put the contents on a plate and microwave for 2-3 min.
2.
Alternatively, heat the contents briefly in a saucepan.
Italian bean stew
High Protein
High Fiber
No Added Sugar
Gluten Free
Mamma mia, it's delicious! Our Italian bean stew enchants you with aromatic cannellini and borlotti beans and juicy organic chicken. This makes healthy eating fun!
From natural organic food
Rich in protein & fiber
Full of energy & satiating
Without midday low
Free shipping from €59
A great, quick meal with everything in it for the day in the home office. Quickly prepared and tastes like your favorite Italian.
Verified customer
answers to your questions
FAQ
At 570 g per glass, our dishes are significantly larger than conventional ready meals. A glass contains two servings.
Our organic dishes are basically suitable for anyone who wants to eat a balanced diet in everyday life.
Athletes benefit from a high protein content and optimal nutrient distribution.
We use 100% natural organic food for our dishes and do not use any additives or added sugar. All of our dishes have a very balanced ratio of high-quality proteins, fats and complex carbohydrates.
Our dishes can be kept for over a year without refrigeration. After opening, the dishes can be stored in the refrigerator for at least 3 days.

We have developed a complex process for preservation. The dishes are gently heat-treated so that we can guarantee a long shelf life without additives. Regular laboratory tests confirm this.
The saturation factor of our dishes is very high. This means you stay full for a long time, even if you have consumed relatively few calories. This is how you get through your diet without torture.
Yes, all dishes are lactose and gluten free.
OUR PACK OF LIONS ON INSTAGRAM
Post a picture of your order with the #finally full and link
us on Instagram. With any luck, we'll repost your picture.
At a glance
Your Italian bean stew
Italian bean stew
Italian bean stew is a popular and nutritious dish for all friends of legumes. The two delicious Italian beans - namely cannellini & borlotti beans - are full of protein and are therefore an integral part of our delicious ready-made meal for athletes. The thick beans also taste delicious, especially when combined with our regional organic chicken and all kinds of fine spices. The result is an Italian bean stew that brings the flair of Southern Europe right to your home or office. Packed with protein and low in fat & carbohydrates, this delicious stew is suitable for athletes as well as all office jocks who don't have time to cook but still value a balanced and tasty meal. Mamma mia, it's delicious!
Italian bean stew with meat - made just for you
For all our ready meals, we use only high-quality organic meat from German farms, and this is also true for our Italian bean stew. With delicious spices and mild flavors, we ensure the best taste - because your food should not only be healthy, but also taste good at the same time. Healthy eating made easy with delicious Italian bean stew from Löwenanteil! We always look for the perfect balance between taste and valuable nutrients when preparing our meals, so even on stressful days at work or on the go, you'll never have to worry about good nutrition that still tastes good at the same time. Our Italian bean stew, with its aromatic green borlotti and white cannellini beans, not only makes for an absolute visual treat, but is also a culinary delight for any friend of southern European legumes. The meal is refined by the juicy organic free-range chicken. Thus, this bean stew is not vegan, but no one is missing out: in our assortment, lovers of plant-based nutrition will find a wide selection of delicious dishes without animal ingredients, such as our Chili Vegano or our fantastic chickpea curry.
Italian bean stew - the perfect sportsmen's dish.
The most important thing in a sportsman's dish? The protein content, of course. Every fitness enthusiast pays special attention to the amount of protein available when buying their meals. And that's exactly why we at Löwenanteil have done everything we can to develop a ready-made meal that is not only quick to prepare, but at the same time transports many important nutrients and contains a large amount of protein. This is ensured by two popular Italian beans and the carefully selected organic chicken meat. Thus, our Italian bean stew has 31 g of protein, with all the ingredients combining in an unbeatably delicious dish that takes just three minutes to prepare. In this way, our Italian bean stew provides the perfect preparation for your next training session, even on stressful days when you don't usually have time for healthy eating. Just put the bean stew on a plate and microwave it for 1-2 minutes, and your Italian bean stew is ready to go, full of important nutritional values.
Low carb bean stew - suitable for any diet.
In addition to a high protein content in the dish, it is important for athletes and generally everyone who wants to lose weight to have as low a carbohydrate content as possible. We have also taken this into special consideration and so our Italian bean stew contains only 57 g of carbohydrates, 10 g of fat and still only comes to 480 calories - a true diet dish, which is wonderfully suitable as a meal for (performance) athletes due to the high protein content. Of course, we have also used all kinds of vegetables in this delicious meal, such as onions, carrots, garlic, turmeric and many more, to provide you with all the important nutrients. Especially during dieting it is important to eat good food full of nutrients, because in many cases you eat much less than you normally would. Our Italian stew makes it especially easy for you to keep all these things in mind and have an effective diet. At Löwenanteil, we always aim to provide you with a delicious and time-saving ready-made meal that still fits perfectly into your diet plan - just like our Italian bean stew.